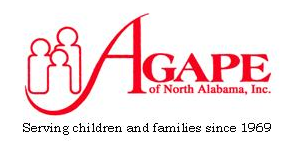 Founded in Huntsville, Alabama in 1969, AGAPE is a non-profit organization that seeks to meet the needs of children and families in North Alabama. It is a Christian-based organization that offers love and compassion to those in need; in fact, it's very name—AGAPE—comes from the Greek word for "love."
"And now these three remain: faith, hope and love. But the greatest of these is love." Is from 1 Corinthians 13:13. This love is what AGAPE hopes to spread, the organization itself identifying as a "family" that reaches out to help others.
AGAPE offers options for children and babies in need of foster care and possibly adoption. It works with birth mothers, families, and children alike to "make the connections that create families. And it doesn't just stop there. It also offers ongoing support for both the parents and the children after placement.
AGAPE calls its foster homes "forever homes," an indicator of the commitment they and their families make to each child. But they're realistic, too. They realize that foster care can come with unique struggles, depending on each child's previous experience. They provide licensed male and female Christian counselors to help families adjust and work through issues.
Using love as the central ideal in their mission, AGAPE has brought together hundreds of foster families to provide both short- and long-term care to children in need. Each family and child is chosen with care, and through these families, children can gain stability and security they might otherwise be deprived of.
And though fostering and adoption is its central mission, AGAPE has also helped families and individuals in various struggles of life—losing a loved one, adjusting to a new home, identity problems, and communication issues.
AGAPE is funded through a variety of sources, including private donations. Those interested in making a charitable contribution can do so on their website, in the "How You Can Help" section. Payments can be sent in physically or processed electronically.