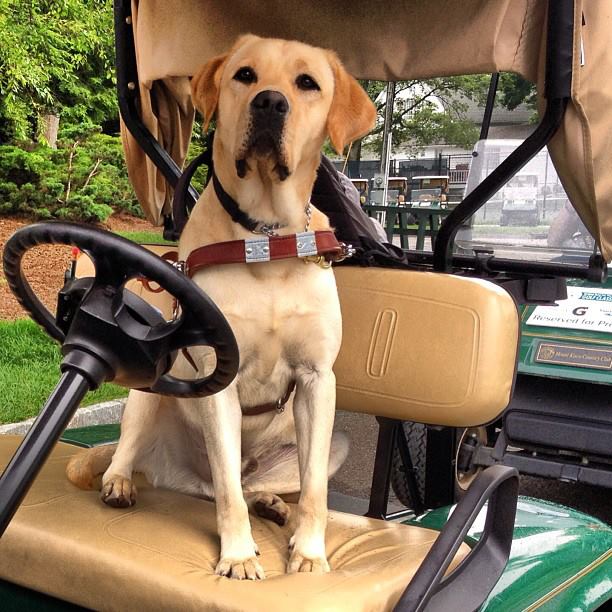 One of the most respected guide dog schools in the world is Guiding Eyes for the Blind.  The nonprofit organization was founded in 1954 to enrich the lives of the blind and visually impaired by raising, training, distributing and supporting guide dogs to help people increase their mobility and independence.  Today, Guiding Eyes has networks and chapters all over the country that help raise puppies and train guide dogs to work effectively.  In 1977, professional golfer Ken Venturi started the charity's main fundraiser, the Guiding Eyes Golf Classic, called affectionately the "masters of blind golf."
The event works by pairing blind golfers with individual coaches that help guide the golfers through the course.  Many participants are highly skilled, and several have been reported to get a hole in one over the history of the tournament.  For the last seven years the tournament has been hosted by highly decorated New York Giants quarterback Eli Manning.  Manning says he looks forward to the event every year and says he loves learning more every year about how the organization changes lives.  He also donates signed memorabilia to Guiding Eyes to auction off during fundraising.
Since Manning has been involved with the organization, the event has raised over $4 million.  The star of Guiding Eyes' Classic is Pat Brown from New Orleans, having won the tournament 18 times and has managed to shoot a respectable best score of 76.  Blind golfers don't operate under any special rules to the game, other than the guidance given to them from their coaches.
Guiding Eyes for the Blind accepts donations all year round for those who want to get involved.  They also have a network of volunteers that help raise the puppies before their official training starts at about 18 months.  Funds that are raised goes to food, medical care and transportation of puppies and guide dogs.  The school has since grown to create a program for autistic children and have provided law enforcement with dogs for explosive, firearm and drug detection.  Blind recipients of dogs, however, remain the most grateful for the organization. As one recipient said, her guide dog made her feel like her life was given back to her.