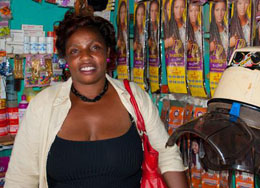 Microfinance provides micro-entrepreneurs and small businesses without access to banking services the financial support they need to succeed. In a world where poverty is not uncommon, microfinance aims to help poor and near-poor households with the ability to become self-sustaining and successful.
Women have proven to be very good entrepreneurs, often better than men. But they're not always supported in their endeavors—a tragic loss for the business world. Luckily, women's strong entrepreneurial abilities have not gone unnoticed to all. Women's World Banking program is a microfinance network that can be found in over 27 countries. It is "the only microfinance network with an explicit focus on women.
Financial support from WWB can be as small as $100, and can be used in a variety of ways—purchasing product materials, transportation, or necessary hardware to begin their entrepreneurial endeavors. Their common goal? "To make a decent living and support their families' basic needs."
WWB is headquartered in New York City and has a total of 39 financial organizations all over the world that provide aspiring women entrepreneurs with the support, confidence, integration, trust, empowerment, and respect they need. Corporations such as JPMorgan Chase, McGraw-Hill, Barclays, Citi, Credit Suisse, Nike, Moody's, and many more have generously supported its work through donations and other work.
Moody's Corporation, the CEO of which is Ray McDaniel, has taken an active philanthropic approach toward assisting WWB, helping them to develop a portfolio analytics kit that will lead to improved risk assessment and decision-making. This should help the organization be overall more successful and efficient in its endeavors.
By expanding "assets, participation and power of low-income women," WWB is helping women all over the world succeed. Their vision is an honorable and simple one: "One day all women will be able to build a secure financial future for themselves and their households."