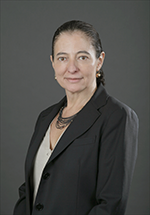 Emily Youssouf was appointed as a board member of the NYCHA public housing board in 2011. She has worked as a real estate professor at New York University. Prior to her appointment to the board, Youssouf was a New York City housing official and served as president of NYC Housing Development Corporation for four years.
Her experience in the finance and housing services is extensive, with a strong record of leadership. With a history of helping troubled organizations turn around by strengthening assets, infrastructure, and internal governance, Emily Youssouf is striving to help NYCHA tackle it's current major challenges.
Besides being involved in senior management for New York's public housing, Youssouf has been involved in several philanthropic endeavors. She is on the board for various civic and charitable organizations, such as the following:
The Citizens Budget Commission—a civic organization dedicated to improving NYC's and New York State government's finances and services.
The Citizens Housing and Planning Council—a nonprofit research organization that works to positively impact housing and neighborhoods in NYC.
Milano The New School for Management and Urban Policy—a graduate school whose programs focus on training students to become leaders and make a difference in the nonprofit, public, and private sectors.
The New York City Health and Hospitals Corporation—a municipal healthcare organization that provides for over a million NYC residents (half of which do not have insurance), regardless of their ability to pay for services.
The New York City School Construction Authority—the organization in charge of planning, budgeting for, renovating, and constructing new public schools in NYC.
New York State Job Development Authority—a direct loan program which provides financing for private businesses in New York State by using New York State-guaranteed bonds.
Emily Youssouf attended Staten Island's Wagner College for her undergraduate degree, where she graduated with honors. She also has an MA in Urban Policy Analysis and Management, which she earned while attending Milano, which is located in Manhattan.