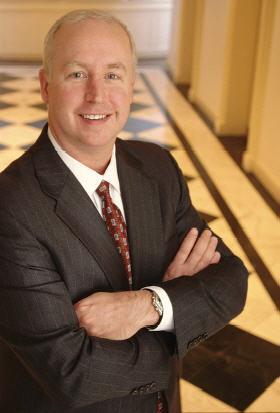 Raymond McDaniel is a heavy hitter in the world of philanthropy, if only because as CEO of Moody's Corporation he is responsible for many of the decisions that the company makes in its corporate social philanthropy program.  However, he is quick to assure people who ask that,  while he may be in charge of the company, much of the support for the programs that Moody's Corporation leads comes from the employees themselves.
"The apparatus that we have here for creating visibility around our programs, and that encourages employees to participate in the programs, works very well," Ray McDaniel explained to Leaders Online Magazine in an interview. "Our employees know that Moody's is involved in it and that it's a good thing to do. The participation levels are strong. So I very much support what we're doing, but I don't think I need to drive momentum behind this. We've already got momentum behind this."
In fact, according to the company, in 2011 a staggering 57% of people employed by Moody's volunteered through service programs, and that doesn't include company supported events, individual volunteering, or charitable walks and races.  CEO Raymond McDaniel encourages a culture of philanthropy at Moody's, and employees who demonstrate an outstanding commitment and involvement to a nonprofit organization are eligible to win the Global Volunteer Award which annually grants $2,500 to the nonprofit where the employee volunteers.
But the signature program of Moody's is the Moody's Mega Math Challenge.  An applied mathematics contest, the M3 Challenge encourages high school students to think of math as a problem solving skill that is applicable to the real world, rather than something abstract and alien.  The contest accomplishes this by challenging contestants to answer real world questions.  Previous years have included determining the best regions in the country for establishing rail lines or deciding whether the stimulus act would actually stimulate the economy.
Throughout the 14 hour contest, teams of three to five eleventh and twelfth graders attempt to solve that year's open-ended applied math-modeling problem, and through doing so learn what a powerful problem solving tool math really is.  The top six teams travel to Moody's Corporation offices in Manhattan to present their findings to an expert panel of PhD-level mathematicians and compete for a share of the $115,000 scholarship prize.
However, as much as Moody's is doing to encourage young people to pursue careers in math and science, Raymond McDaniel doesn't believe that it's enough. 
"No, I don't think enough is being done. There is more focus on this than there has been in past years, and I think that's very encouraging," McDaniel explained. "But the acknowledgment that we have challenges in the sciences and in math with our young people and with our educational system is really just the first step in the process. We have a lot to do to make sure that we are as competitively positioned in the global economy in the future as we have been in the past."