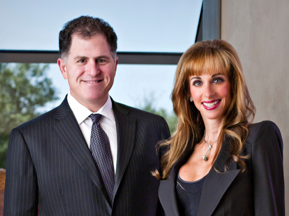 What does it mean to be a child living in urban poverty? For too many of the more than one billion impoverished kids in cities and towns around the world, it means living with less. Without access to decent schools, basic health support and financial stability, these children fall behind their peers.
To help combat issues such as these, in 1998, Michael and Susan Dell created the Michael & Susan Dell Foundation.  Michael Dell is more often associated with having founded the computer company Dell in 1984 at the age of 19 with only $1000.  He is still the chairman of the board of directors and chief executive officer.  However, he and his wife, Susan, are also earnestly working on local and global causes.
Having four children of their own influenced their decision about the direction to take the Foundation.  They focused on kids and families.  Yet, the ones they wanted to help were from far less fortunate backgrounds.  They were children for whom school, diet, exercise and stable family life were daily struggles.
The Dell Foundation started with projects including classroom coaching initiatives, school-break activities, Marathon Kids and the Dell Children's Medical Center of Central Texas.  They then got involved in school reform addressing public and charter schools, health initiatives and college assistance with the creation of the Dell Scholars Program.
More recently, the Dells started funding microfinance and water-sanitation services in India and programs for orphans and vulnerable children in South Africa. What started with 5.4 million shares of Dell stock, valued at $282 million, has grown to a $906 million endowment and $100 million in commitments per year to 150 active projects. It is the 53rd-largest U.S. foundation in terms of total giving, and number 68 in asset size, according to the Foundation Center.