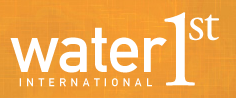 Water 1st International is a charity based in Seattle, Washington that was funded by civil engineer and water advocate Marla Smith-Nilson. Marla and her team at Water 1st believe that access to clean water is a basic human right, and that impoverished people should not have to face the challenges bought on by lack of access to sanitation, drinking water, and education.  Long term sustainability lies at the foundation of the organization's goals, working through local partners that provide the community with long term support and training to stay healthy and maintain water projects.
By raising funds locally in the United States and partnering with organizations in needy communities, Water 1st is able to build relationships with people who understand each community's needs and have the communication skills to implement the program effectively.  Water 1st also supports training local women to be hygiene ambassadors to educate people on how to use sanitation equipment, giving them a role of empowerment on top of providing services.  The charity is financially responsible, with a rate of 84% of funds contributing directly to projects.
The organization holds three major charity fundraising events per year.  The first is a Carry 5 walk that is organized in various locations around the United States to raise money and awareness for the cause.  Participants walk 5k carrying full containers of water to represent the struggle of families that have to walk long distances to collect clean water.  People who do not have a walk in their area are encouraged to start one.  The second event is Water 1st– Beer 2nd, a festive evening event that includes food, music, beverages and dancing.  Finally, a silent auction and gala called Give Water, Give Life is held annually in November.
The organization also offers opportunities to volunteer and see projects hands on.  Water 1st invites volunteers and donors to experience the difference clean water makes in the lives of people in the communities they help.  Currently they operate with partners in Honduras, Ethiopia, Bangladesh and India.  The amount of funds raised increases each year and the organization continues to grow they aim to invest in more communities that needs access to clean water.