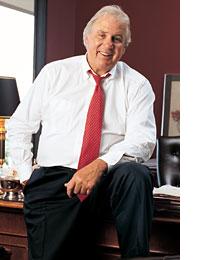 In 1986 Joseph O'Donnell, a well-known Boston business executive , lost his son Joey to cystic fibrosis. He was only 12.
In response, with his wife Katherine O'Donnell he founded the Joey Fund in his memory. In partnership with the Cystic Fibrosis Foundation, the Joey Fund raises money for research and to help New England cystic fibrosis patients and their families receive financial assistance for CF related problems. Since its founding the fund has raised over $51,000,000.
Joseph O'Donnell went on to become a trustee of the National Cystic Fibrosis Foundation, which twice presented him with their highest honor, the Breath of Life Award. He also serves on a wide variety of boards including serving as trustee of the Children's Hospital Trust, the Malden Catholic High School, the Perkins School for the Blind, the Winsor School in Boston, and overseer of the Boys and Girls Clubs of Boston. He was even appointed to the President's Advisory Committee on the Arts in 2001.
A graduate of Harvard Business School, he has been active in the University's Board of Overseers, the Allston Work Team, the Harvard College Fund Executive Committee as vice chair for reunion giving, various Harvard College visiting committees, and as an elected director of the Harvard Alumni Association. And recently, he gave $30 million to the University itself.
Throughout it all Joseph O'Donnell has remained a man who turned tragedy into something that continues to help other families in need, and a business man who has dedicated his life to helping bring art and joy to the world.