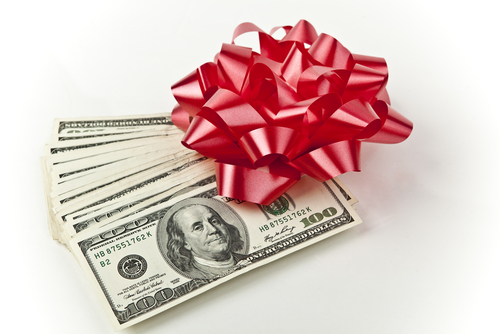 We're once more in the middle of the holiday season, which brings joy to many of us, sorrow to some of us, and an excess of "stuff" to lots of Americans, who are expected to spend about $750 per person in the coming month. Altogether, holiday spending will be over $550 billion this year—and that's a lot of money.
But let's stop for a moment and think about what the holiday season looks like for all Americans. True, most of us will spend time with friends and family starting around Thanksgiving and continuing into the New Year. We'll give gifts, enjoy food that's more extravagant than normal, and generally have a good time. But there are about 3.5 million Americans who, instead, will spend their holiday season homeless and wondering when their next meal might be. 12 million are still without jobs.
Next to that, spending $750 each starts to sound a little bit ludicrous, doesn't it? Yes, some of those gifts will carry real meaning and sentimental value, but some of it will also end up in a closet somewhere within a few weeks, completely forgotten. Bruce DeBoskey of the Denver Post has an excellent article that talks about what would happen if each of us used just 10% of our holiday spending money on charity instead—and the result is phenomenal.
All totaled up, it would equal over $55 billion of funding for nonprofit organizations and charities. That's the kind of money that has a lot of potential to change peoples' lives. DeBoskey suggests the following for this year's season:
Have a family meeting to discuss giving 10% this year and decide where the money will go
Give charitable gift cards that allow the recipient to designate which charity they'd like to give to.
Buy gifts that directly support charities
Volunteer your time to connect, engage, and learn