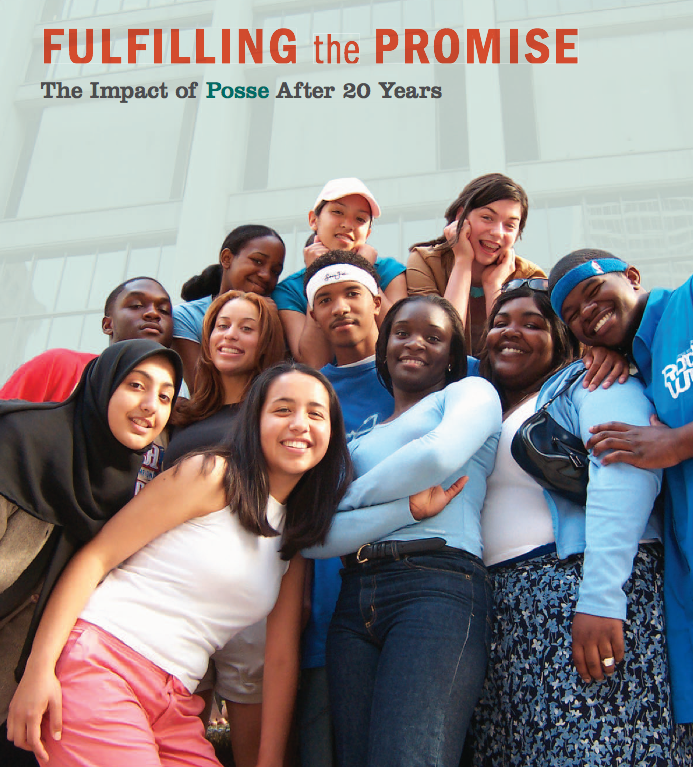 The Posse Foundation was founded in 1989 to identify high school students with "extraordinary academic and leadership potential" that may otherwise be overlooked by colleges and universities during the selection process. Posse is now one of the best youth leadership development programs in the nation. In the twenty years since it began, Posse partner colleges have awarded $486 million in leadership scholarships to young leaders.
Posse uses an alternative set of indicators to predict academic success in college. It identifies promising students and extends to them the opportunity to join a "posse" of 10 students to pursue personal and academic excellence in a multicultural environment. A select set of universities have partnered with the Posse Foundation and award Posse Scholars four-year, full-tuition leadership scholarships.
The graduation rate for Posse Scholars is an astounding 90 percent—and to think these students may have once been overlooked. Last year, Moody's CEO Ray McDaniel was awarded the Posse Star Award for Moody's leadership, support of, and contributions to the Posse Foundation.
"Posse alumni that currently work at Moody's are extremely competent," said Executive Director Gus Harris. "I'm also impressed with their professionalism." Since 2006, Moody's has hired 18 Posse Scholar interns. CEO RayMcDaniel cites the similarities between the way Moody's ratings committees work and the way posses work.
"Diversity is valuable because we are in the risk assessment business," McDaniel says. "We want to make sure we have the widest spectrum of perspectives available in that assessment that we can."
"The way that posse approaches diverse teams… it's the same way that we work," he says, continuing on to joke that, "We probably really should think about renaming our rating committees as rating posses."
Posse CEO Matt Fasciano praised Ray McDaniel and Moody's, saying "[they have] been an incredible partner through the Posse Foundation, really helping scholars think ahead to their transition from being leaders on campus to being leaders in the workforce."