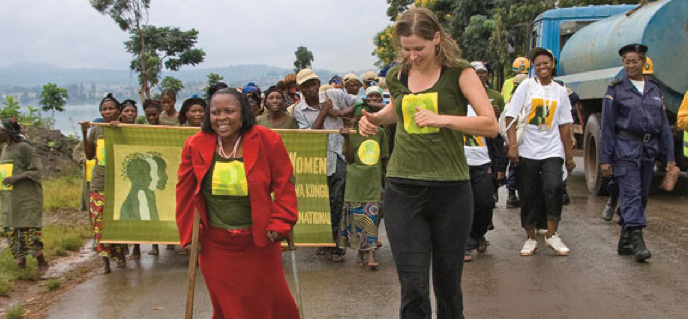 Democratic Republic of Congo may be one of the most dangerous places on earth to be a woman.  According to a report in The Guardian, 48 women are raped every hour in Congo.  That adds up to 1,152 every day.  It has become an unconscionable weapon of war in which almost every family has experienced atrocities.
The conflict in Congo began with the conclusion of the Rwandan genocide. The Interahamwe (the Hutu militias responsible for the massacre of 1 million in Rwanda in a period of four months) were pushed over the border into the Congo where they set up camp and began terrorizing the Congolese people.
When Lisa Shannon heard about the staggering statistics, in 2005, she was shocked to find out nobody was doing anything about it.  She knew these people were suffering so much more than she was, and she had to help.
Her first attempt to raise money began by her gaining sponsorship to run 30 miles.  Toward the end, the miles became gruelingly difficult.  Her feet bled.  Still, she felt if Congolese women could endure the brutal realities of war, then she could make it 30 miles.  This simple step lead to her repeatedly visiting Congo and writing a book called "A Thousand Sisters." She then started a foundation, Run for Congo Women.
Her organization plans runs/walks around the country, and in Europe, to raise money.  Though it started small, her group raised over $700,000 for Women for Women International, an organization which sponsors women in order to help them learn skills to become self-reliant.
Lisa appeared on The Oprah Winfrey Show along with Hilary Clinton, Nick Kristof, Sheryl WuDunn and Ben Affleck in 2009.  The airing of the show ended up raising over six million dollars and created 16,000 new sponsorships for Women for Women.
Shannon was a winner in Shape Magazine's 2010 article about "women who shape the world." She continues in her fight today.