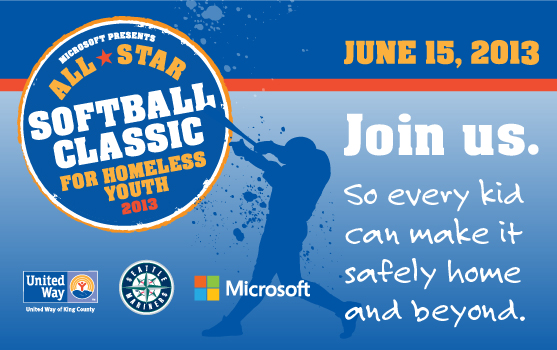 One in 26 Seattle students experienced homelessness during the last school year. As many as 1,000 young people experience homelessness in King County each night. And, thankfully, nearly 80 percent of homeless youth try to stay in school.
On June 15, the United Way All-Star Softball Classic for Homeless Youth was held at Safeco Field.  7,000 people attended the game and the organization earned $20,000 in ticket sales.  Many famous baseball players took part in the game.
The roster included names such as Jay Buhner, Edgar Martinez and Dan Wilson. Sonic player Gary Payton, Seahawks wide receiver Golden Tate, Pearl Jam's Jeff Ament and other big names joined them.  The event was touted as "the largest-ever gathering in support of homeless young people."
And, yes, it did raise awareness about homeless youth, but there is still work to be done.  Former Mariner, Dan Wilson and his wife, Annie, have made youth a focus of their work as co-chairs of this year's United Way of King County campaign.
There are still some pretty scary statistics out there.  Seventy-six percent of unaccompanied minors are approached by a gang member or pimp within 45 minutes of showing up on the street, according to a recent study by Seattle police. Among the kids that age out of the foster system at 18, one in five becomes homeless.
While these numbers are sobering, there was an effort to personalize the issue.  They played interviews on the Jumbotron throughout the game.  These were from kids who were homeless and trying hard to get through their problems.
Megan Gibbard, King County's homeless youth project manager said, "Every kid needs help growing up. It humanizes that homeless youth are just like you and I were when growing up…To see the kids like that is normalizing and it's like they're just little dudes."
What did the kids have to say?  "It was awesome and fun!"