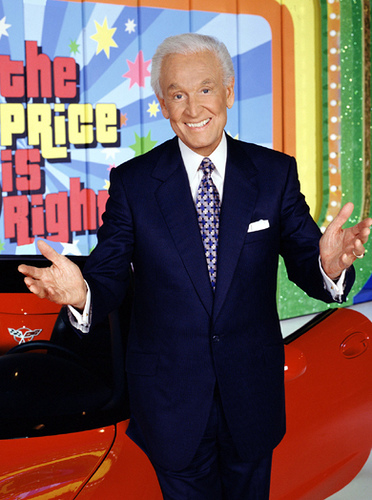 "Sharon Jones, come on down!"  This is something you may have heard on "The Price is Right" if you're a TV fan.  In the old days, the show was hosted by the legendary Bob Barker.  Barker truly embraced his TV personality, even spoofing himself in the golf comedy Happy Gilmore.  To add to his fame, he is even mentioned in the Macklemore song "Can't Hold Us."
However, there is something you may not know about Bob Barker: he loves animals!
"I am one of millions of people who was just born with a deep love of animals. I have been devoted to animals since I can remember. As a kid I picked up strays and tried in my clumsy ways to help injured animals. I've done it all my life, and now I'm doing it on a much larger scale," says Mr. Barker.
Barker gives his late wife, Dorothy Jo, credit for really turning him into an advocate, though.  Since retiring from showbiz, Barker has doubled down his efforts to turn things around for animals in distress.  One of his big pushes has been to ban elephants in traveling shows.  In order to try to achieve this, he testified before Congress.
Barker also made it clear he not only supports animals in the United States but all over the world.  He worked to pass a bill making it illegal to use animals in Bolivian circuses.  There were 84 lions being used at the time, which Barker paid to have sent to a sanctuary in Denver.
Just this year, Barker paid over $1 million to move three elephants from the Toronto Zoo to a sanctuary in California.  The sanctuary is called PAWS, or the Performing Animal Welfare Society.  Barker said one of his favorite memories was seeing the elephants let off the bus and into the sanctuary.
Recently Barker was contacted by the owner of the Texas-based Wildlife Reserve and Rehabilitation, who asked if he would donate $5,000 for an avian ventilator.  Barker personally called back to let her know that he wanted to donate 50 times as much instead to be used for other needed items for the sanctuary.  He followed up on that promise and donated $250,000.
However, one of the most touching stories is how Barker has supported ending illegal Japanese whaling.  He donated $5 million to the Sea Shepherd Conservation Society and now he even has a boat named after him.
At 90 years old, Barker has certainly had a long life and career.  He will forever be remembered for the work he has done for animals.