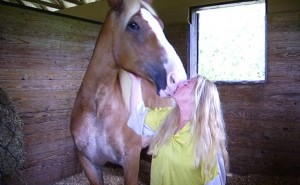 Founded in 1983, the Thoroughbred Retirement Foundation (TRF) is the world's largest reservation dedicated to the rescue and rehabilitation of retired Thoroughbred horses. Thousands of horses have been cared for with the help of TRF's services, and dedicated humanitarians and equestrian-enthusiasts have helped to put the organization on the map. Since 2011, the Earle I. Mack TRF Champion Award has recognized those individuals who are dedicated to Thoroughbred racehorse welfare, safety, and retirement. It was recently announced that this year's award recipient is Victoria McCullough, who will be honored at the official Belmont Stakes Charity Celebration in June.
Earle I. Mack has long been committed to the arts and arts education throughout upstate New York. He has also dedicated much of his life to the welfare of horses and is the eponymous founder of the TRF Champion Award. He offered hearty congratulations to Ms. McCullough.
"Victoria McCullough has demonstrated a deep and passionate commitment to safeguarding the lives of horses," says Earle I. Mack. "We applaud her for her untiring efforts, and we are honored to present her with this richly deserving award," of how he and the TRF are glad to present the honor to such an admirable recipient. McCullough is regarded as a model animal rights advocate, dedicating much of her life to the protection of retired Thoroughbred horses.
According to a news release from The Jockey Club, "McCullough, chairman of the board of Chesapeake Petroleum, has made tremendous strides using her own resources in preventing the reinstitution of horse slaughter in the U.S. and in the fight to stop the export of horses across the country's borders," of McCullough's dedication to bettering the lives of horses. Reportedly, she has personally purchased more than 4,000 horses from kill pens, funded their care, and helped to find them safe new homes. Her love and passion for horses certainly makes her a prime candidate for the Thoroughbred Champion honor.
Previous Thoroughbred Champion Award recipients include Jockey Club chairman Ogden Mills Phipps, and American chef Bobby Flay, who will host the Belmont Stakes Charity Celebration at his restaurant Bar Americain later this spring. The Charity Celebration will benefit the Grayson-Jockey Club Research Foundation and the TRF, and will also dedicate a portion of the evening to honoring Ms. McCullough with the TRF Champion Award.
Learn more about how the TRF works to end the slaughter and ill treatment of retired Thoroughbred horses by visiting www.trfinc.org.