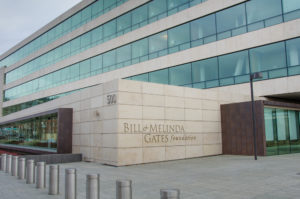 Whether it's inherent in the structure of a business or a personal choice made by the wealthy individual, more and more billionaires are choosing to give away massive portions of their wealth to charity. Sometimes the donations happen during the person's lifetime; other times it's a promise through a program like the Giving Pledge to donate a significant percentage of their money to charity upon their death.
On the business side, groups like global financial powerhouse General Atlantic are often founded on the idea of giving back to the community. Established in 1980, General Atlantic has more than 100 investments around the world. But it's not just about the money—the company founder, Chuck Feeney, was determined to make philanthropy a vital part of the business.
According to Bill Ford, General Atlantic Chief Executive Officer, Feeny "was one of the early proponents of 'giving while living' and aimed to give his entire fortune away during his lifetime to support a number of philanthropic causes he was passionate about. In order to grow his capital available for giving, he partnered with us to invest in other promising entrepreneurs. So General Atlantic's heritage has always been about backing entrepreneurs and innovators who are trying to build new businesses and who often pioneer new industries."
In more modern times, many billionaires are not only integrating philanthropy into their businesses, but also turning to Bill Gates's and Warren Buffet's Giving Pledge. The pledge is not a legally binding commitment, but rather, a promise by the world's wealthy to donate more than half of their fortunes to charitable causes either during or after their lifetime. The Giving Pledge is meant to help the wealthy inspire others by providing well-known examples of people who have gone above and beyond to give back to their communities.
Each Pledge member publicly announces his or her intent to give, as well as creating an official statement about their philanthropic plans. In addition, they gather throughout the year—and at one big annual event—to discuss issues of philanthropy.
As of 2015, this group included 193 individuals from around the world, with more constantly joining
"It's really thinking about how iconic figures providing inspiration and support can inspire and serve as a model for society," said Robert Rosen, Giving Pledge coordinator and Director of Philanthropic Partnerships for the Bill and Melinda Gates Foundation. "We aren't looking to add any additional complexity."
Will these billionaires actually give the amounts they've promised? So far, many have. And hopefully they will inspire an entirely new generation of philanthropic do-gooders to do great things for their communities.