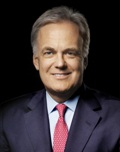 Sometimes the best type of philanthropy is that which provides guidance. Dean B. Nelson of KKR has provided a multitude of portfolio companies with just that, since he's the one who founded KKR's Capstone program in 2000.
Nelson, who holds his B.S., summa cum laude, from Purdue and his M.B.A. with high honors from the University of Chicago, has worked closely with many of KKR's portfolio companies since founding KKR Capstone. KKR is a leveraged buyout firm, which means that they often purchase companies that have potential but are struggling to run effectively and efficiently.
KKR Capstone offers these companies leadership guidance and helps them get back on their feet and back to being profitable without taking their power away. By keeping companies from going under, KKR Capstone has saved thousands of jobs.
Nelson's Capstone program also supports KKR's "Green Portfolio" initiative, which is designed to help portfolio companies save both money and resources, improving the environment all the while. In a time when global warming poses a serious threat to our world, it's good to see executives like Nelson advocating for sustainability.
"One of KKR's core strengths is driving operational improvements that build business value," Dean B. Nelson said. "By focusing on improving environmental performance across our portfolio and providing a framework to help companies take environmental initiatives to scale, we're finding new ways to help the portfolio companies save money while simultaneously improving the environment."
Dean B. Nelson is currently working as a board member for Sealy, one of three portfolio companies at KKR that participated in the pilot phase of KKR's new partnership with the Environmental Defense Fund (EDF) beginning in 2008. Within one year, the three companies had saved over $16 million and prevented 25,000 metric tons of greenhouse gas emissions. KKR's Green Portfolio now includes more than 20 companies.
Before coming to KKR, Dean B. Nelson was a senior partner at The Boston Consulting Group and ran its office in Chicago. He also worked for Shell Oil Company. He is currently on the boards for both Sealy and Del Monte, and has worked in the past with companies like PRIMEDIA, Toys 'R' Us, and the Yellow Pages Group.
Apart from his work with KKR, Nelson has also shown his philanthropic colors by supporting endeavors like CareNet, staying true to his values and donating to a cause he believes in.