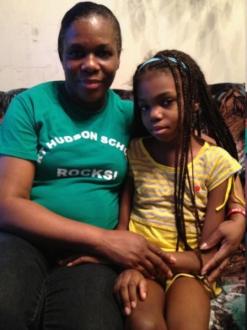 Tiffany Glasgow is just eleven years old, but she lives in constant pain. She has sickle cell disease, as do her three brothers. Her older sister died of it when she was just a baby. Red blood cells assume an abnormal and rigid sickle shape in those who suffer from the disease, causing reduced cell flexibility and myriad complications.
But SCD is not without a cure—bone marrow transplants can be especially effective in children, and those that receive successful transplants can live a healthy and normal life. Potential donors need only complete a painleSss cheek swabbing to see if they are a match.
Tiffany's story inspired NYCHA tenant leaders to set up a citywide bone marrow donor search. In a thriving city of eight million people, there's a chance that someone there could be Tiffany's perfect match—or someone else's.
"It's important," Tiffany said of the drive. "They'll give people a chance to live and feel better and do more stuff. It's not just for me. It's for other people that need marrow."
The drives are slated to take place on May 4th at Melrose Classic Center (1-4 p.m.) and May 18th at Wyckoff Gardens (1-4 p.m.). Additional drives in Manhattan and Staten Island are currently being organized.
The initiative shown by residents is synonymous with NYCHA Chairman Rhea's call for leadership from within. "Together we have accomplished so much to enhance our communities and support NYCHA's families," he said in a statement on the PlanNYCHA website. It looks like residents are taking that to heart.