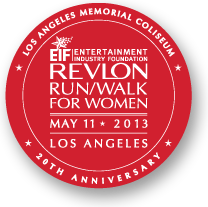 The EIF Revlon Run/Walk For Women event was created in 1994 by Lilly Tartikoff, Ronald O. Perelman, and the Entertainment Industry Foundation. Since its inception nearly a decade ago, the event has helped Revlon raise and distribute over 68 million dollars to help fight women's cancers.
This year, actresses Olivia Wilde and Emma Stone participated in the New York City five-kilometer event, which was held on Saturday, May 4th. Both women are Revlon brand ambassadors. Stone's mother, Krista, is a breast cancer survivor, so the charity strikes home for the actress. The two participated among other friends and family on team "Stone – Wald – Sullivan Warriors" and raised a total of $32,790, exceeding their $25,000 goal by far.
"Our team is named in honor of some very special people who were diagnosed with cancer since our team walked last year," team captain Krista Stone wrote on the team page. "If you can't join us in the walk, you can join us in the fight by making a pledge or donation on behalf of one of our team members."
Wilde teamed up with Alyssa Bricklin to form "Team Badass." Together, the two raised their goal amount of $20,000.
"Together, we will run or walk to raise funds that fuel ground-breaking research, provide diagnostic services, and support women facing cancer," the team's page reads. "Every step and every dollar brings us closer to the ultimate Finish Line – an end to women's cancers."
The next Revlon Run/Walk for women will be held on Saturday, May 11th. Registration is still open for interested participants, and even those who can't attend the event can help by donating and spreading the word.