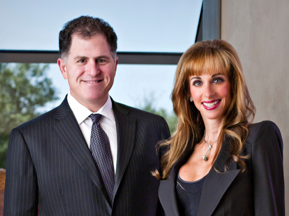 There are more than one billion impoverished kids in cities and towns around the world. Without access to decent schools, basic health support and financial stability, these children fall behind their peers.
To help with this issue, in 1998, Michael and Susan Dell created the Michael & Susan Dell Foundation.  Michael Dell founded the computer company Dell in 1984 at the age of 19 with only $1000.  He is still the chairman of the board of directors and chief executive officer.  However, he and his wife, Susan, are also earnestly working on local and global causes.
The couple have four children of their own, which influenced their decision about the direction to take the Foundation.  They focused on kids and families.  Yet, the ones they wanted to help were from far less fortunate backgrounds.  They were children for whom school, diet, exercise and stable family life were daily struggles.
To read Michael and Susan Dell's entire profile, click here.