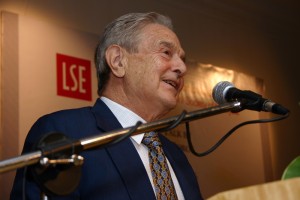 George Soros is a self-made man.  His story is really the story of the American Dream made good.  Coming from Jewish-Hungarian roots and moving to England to pursue an education got him started on the path to becoming a magnate and philanthropist.
Some people get a job and feel "good enough" with it to stick to it.  Soros' first job was one he promptly threw away to chase his real dream.  Perhaps that is the stamp of someone destined for greatness.  He never settled for less than he believed he was meant for.
After getting his start in banking, he promptly rose up through the ranks to vice-president and eventually owner of his own investment firms.  He eventually amassed so much money he could give away massive donations to charities.  His favorites included education, public health and human rights.