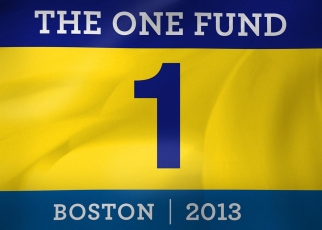 On April 16th, 2013, Massachusetts Governor Deval Patrick and Boston Mayor Thomas Menino announced the formation of The One Fund Boston, an organization created to support victims and families of the tragic Boston Marathon bombing. After the horrific events of Marathon Monday, Boston famously united as one community to support those most affected by the tragedy. Local businesses gave immediate support to The One Fund, and countless of private donors provided all that they could to help with medical bills, counseling, and other urgent recovery expenses.
According to The Boston Globe, an additional $12 million has been recently donated to The One Fund Boston, adding to the $61 million already generated. As the Boston community came together in April after the tragedy, donors and humanitarians from around the world responded with a strong desire to give whatever they could. The newest calculated sum of $12 million is a result of this global generosity, and people from around the world continue to make donations to the fund, The Boston Globe reports.
Of The One Fund Boston's original formation, Mayor Menino proclaimed, "We are one Boston. We are one community. As always, we will come together to help those most in need. And in the end, we will all be bettor for it." Now, with the newest donations reportedly being generated from corporate fundraising events, newlyweds asking their guests to provide to The One Fund, and even children who donated their First Communion money, it seems as though one horrific event has truly united humanitarians on a global level. The One Fund is still determining how to distribute the newest major donations, but funds will most likely go towards the families of victims, survivors' medical expenses, and ongoing counseling to those traumatized by the event.
For more information about The One Fund Boston, visit the organization's official website.