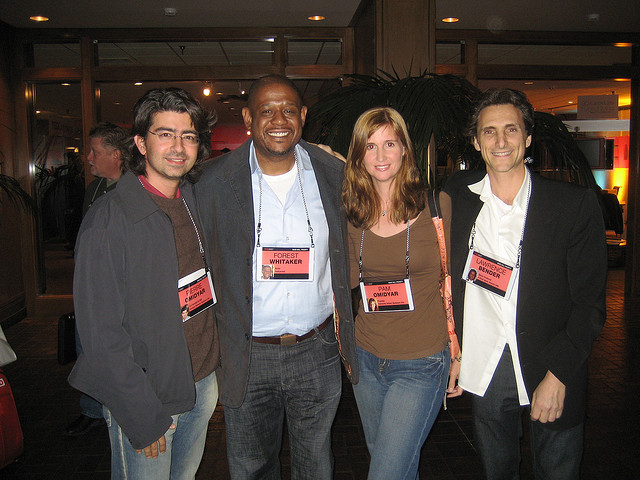 Pierre and Pamela Omidyar have been making some serious philanthropic contributions for more than a decade now, with no signs of slowing down. A true philanthropic power couple, the Omidyars acquired their fortune from Pierre's company, eBay, and have been as generous with their wealth as they are business-savvy. According to The Huffington Post, "After creating the world of eBay, a place where people could easily share passions and build businesses, Pierre Omidyar realized he had to take that platform out into the real world, to empower those in need," of Pierre's transition from successful entrepreneur to leading philanthropist.  
In 2004, the Omidyars created the Omidyar Network, a philanthropic investment firm that creates opportunities for people who wish to engage in philanthropy with a significant social impact. Since it's founding ten years ago, the Omidyar Network has been a platform in which Pierre and Pamela could invest in innovative organizations that impact social, economic, and political change. "Everyone is born equally capable, but lacks equal opportunity," explains Pierre, who was inspired to create the Omidyar Network as a way to help those who don't have access to funds to fuel their vision for a better world.
"I created [eBay] with the belief that people are good. If you give people the opportunity to do the right thing, you'll rarely be disappointed, says Pierre. "After eBay became so financially successful, I really felt a sense of responsibility to put that to good use," which is exactly what he and Pamela have done, in utilizing the Omidyar Network. In addition to their philanthropic investment firm, the Omidyars have created additional nonprofit organizations that tackle social issues. In 2005, Pamela took the lead in establishing Humanity United, an organization that confronts human trafficking and other issues of conflict globally. The couple also established Hopelab, a nonprofit foundation that uses technology to improve children's health.
Pierre Omidyar is one of those rare philanthropists who is truly more concerned with the process of creating social change, rather than the dollar signs that help make that change happen. He explains, "When you look at the this top line number, it's very easy to focus on dollars, […] The money matters, but the impact matters more. We're really committed to trying to find new tools to have impact. That has been the most rewarding part of this journey," of the ways in which the impact of doing good is more important than the monetary factor. Still, this is coming from the man who has donated more than $1 billion dollars to charitable causes and initiatives, a hefty sum that few other philanthropists have come close to matching.
Both at only 46 years old, one could argue that the Omidyars have many years of innovating philanthropy and passionate humanitarianism ahead.