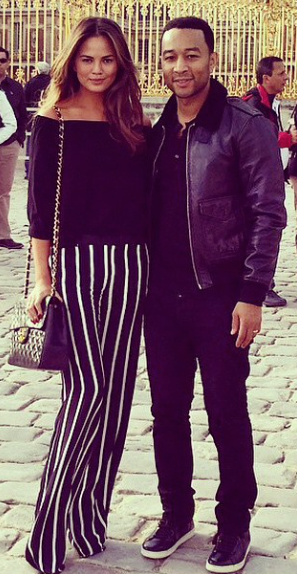 Grammy-winning soul singer John Legend and wife Chrissy Teigan are no strangers to philanthropy. This past weekend, the creative power couple decided to support protestors in Lincoln Square by purchasing food trucks that would keep them nourished out in the NYC chill.
According to Vanity Fair, "Despite New York Police Commissioner Bill Bratton's prediction that public demonstrations over the Eric Garner and Ferguson Grand Jury decisions would 'peter out,' the protests are still going strong thanks, in part, to a generous contribution from musician John Legend and his wife model and food blogger Chrissy Teigen." Reportedly, the couple purchased a fleet of food trucks to serve free food to protesters in Lincoln Square on Sunday.
Although neither Legend or Teigan are overly involved with the protests that have happened in response to the grand jury decisions in the cases of Eric Garner and Darren Wilson, they have made comments on social media, and this most recent effort to support protesters speaks to their desire to do what's right. The couple has been involved with many other philanthropic and humanitarian endeavors in the past. From supporting music and the arts to aiding poverty initiatives, both are model humanitarians who remain incredibly humble despite their deep generosity.
In 2007, Legend launched the Show Me Campaign, a foundation that works to break the cycle of poverty through education on a global level. According to the initiative, "In the United States, the Show Me Campaign works to give every child access to a quality education through the promotion of scalable, proven solutions and programs. In Africa, Show Me has supported holistic developmental projects in the past and currently sponsors secondary school scholarships for girls," of the work the campaign does.
John Legend has also taken part in arts initiatives such as the Turnaround for Children Annual Impact Awards Dinner, and the Sound of Change Live Charity concern. The singer has also supported The Gentleman's Fund, is a spokesperson for Tide Loads of Hope, and has partnered with the Millennium Promise Alliance.