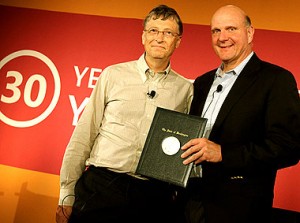 Bill Gates must be one proud man. Thirty years ago, his company, Microsoft, launched the Employee Giving Campaign—and it's raised over $1 billion since. For every hour an employee spends volunteering, Microsoft donates $17. They also match every single contribution made by employees—dollar-for-dollar.
Today, about 65% of the company's employees have chosen to take part in the campaign—that equals out to over 35,000 participants donating to 31,000 non-profit and community organizations all over the world. As one of the co-founders for The Giving Pledge, it seems Bill Gates is slowly but surely convincing the entire world that giving is good.
"The company and its employees have much to be proud of at this remarkable milestone and, I know, will continue to make a positive impact in the years ahead," said Bill Gates. Proud, indeed. It's great to see employers supporting charitable actions in its employees. With this program, Microsoft has really succeeded in cultivating a community of giving in its employees.
As a bonus to the celebrations, Microsoft will also be donating a $25,000 grant to The United Way of King County, World Vision International, Seattle Children's Hospital Foundation, and the American National Red Cross—the four organizations that have garnered the most funding from Microsoft employees over the last thirty years.