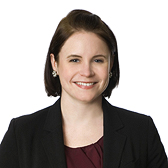 Jenny Farrelly is a successful businesswoman who is dedicated to helping young people move up in the world. With a B.A. from Johns Hopkins University and an MBA from the Tuck School of Business at Dartmouth, Farrelly knows how far a good education can take a person.
Her education has taken her to KKR, the private equity giant led by co-founders Henry Kravis and George Roberts. Jenny Farrelly is a member of the Global Public Affairs team and key media contact for KKR. Her education was specialized for work in finance and corporate communications, and she has worked for other notable corporations like Edelman's Corporate & Financial Communications practice, Citigroup, and Stifel Nicolas.
Jenny Farrelly's résumé is enviable, but through her involvement in programs like the Young Women's Leadership Network (YWLN) and Student Sponsor Partners (SSP), she has proven that she's dedicated to helping others do the same.