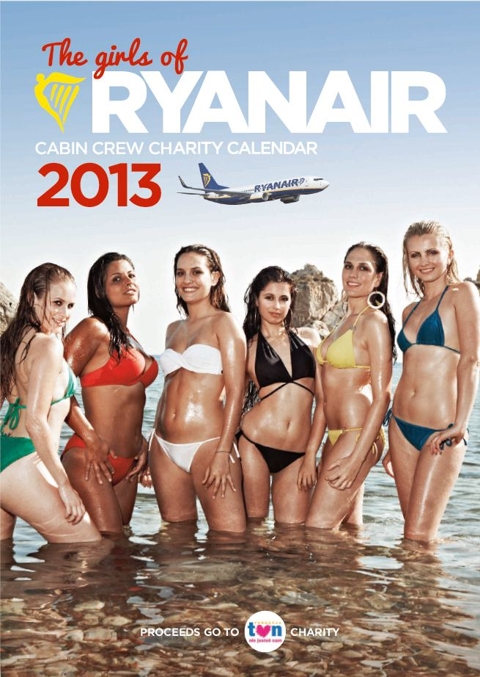 What's the best way to raise money for charity? That's debatable, but one thing is for certain: scantily clad girls usually make a killing when it comes to sales. That's what European airline Ryanair counts on with its annual charity calendar, "The Girls of Ryanair Cabin Crew Charity Calendar."
In it, several of Ryanair's lovely flight attendants pose in bikinis (and sometimes less) on a picturesque beach in Crete. The company also released an "exclusive" behind the scenes video that shows the girls arriving and working the camera at the photo shoot.
Sales from the calendar, which costs £10 or €10, will go to the Teenage Cancer Trust. According to the budget airline company, the goal is to raise €100,000, or around $138,000. Passengers on Ryanair flights can purchase the calendar en route, and those that live in European countries Ryanair flies to can also purchase it online.
Stripping to skivvies isn't unique to Ryanair. In fact, it seems to be an idea that is becoming even more popular each year. Just recently, these other groups have created similar calendars to raise money for charity:
Swansea University Equestrian Club, skivvies – proceeds to go Lluest Horse and Pony Trust and Cancer Research
University of Warwick Rowing Society, nude – proceeds go to Macmillan Cancer Support
Men of Redfin IT, skivvies – proceeds go to MIND Research Institute
NSW Firemen, shirtless – proceeds go to Westmead Children's Hospital Burns Unit
What do you think of this risqué way of raising money for charity? Is it a way to have fun, let loose, and support a cause you believe in –or just a tacky way to gain notoriety and attention?