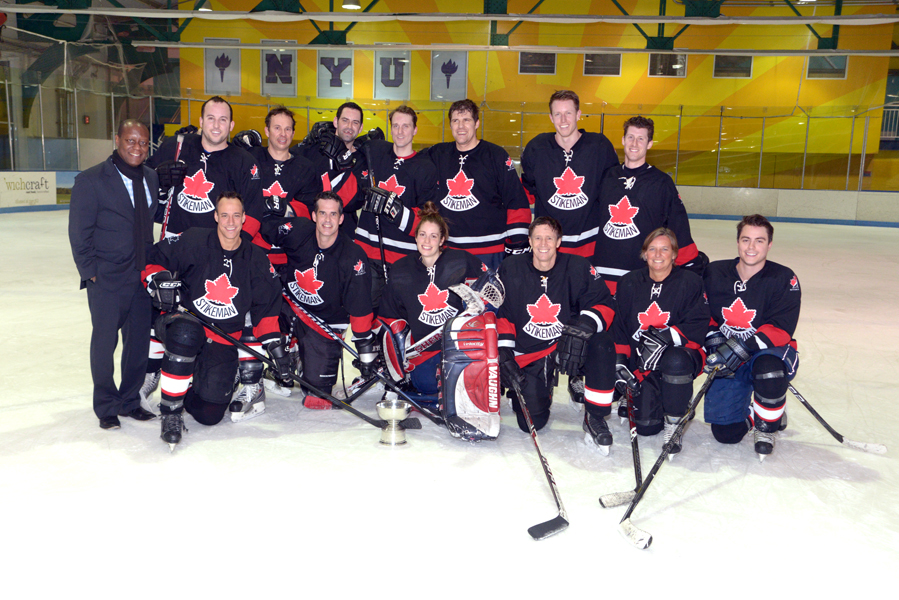 Earlier this month, various New York City law firms laced up their skates to compete in a hockey tournament that benefitted Ice Hockey In Harlem. Dubbed the Lawyers' Cup, this fundraiser-tournament has become a highly anticipated annual event, and one that raises vital funds for Ice Hockey In Harlem, an organization dedicated to education and sportsmanship.
According to Forbes contributor Teresa Genaro, "Conceived in 2008 by Ice Hockey in Harlem volunteer and board member Jason Crelinsten, the Lawyers' Cup began as a gam between top New York City Law firms Proskauer Rose and Skadden Arps Slate Meagher & Flom." Since then, the Lawyers' Cup has been an annual event that continues to grow in hopes of raising funds and awareness about the important work that Ice Hockey In Harlem is doing. Explains Genaro, "Skadden won the first four Lawyers' Cups, dethroned only when a Canadian firm Strikeman Elliot joined what had evolved from a charity game between two teams to a full-fledged tournament."
This year, six teams played a series of round-robin games as part of the ever-growing Lawyers' Cup. Reportedly, the participating law firms cover the tournament costs, and each contributes $5,000 to Ice Hockey In Harlem. Crelinsten estimates that this year's tournament raised roughly $60,000 for the ice hockey organization.
Ice Hockey In Harlem is a nonprofit organization that works to improve the social and academic wellbeing of youths who reside in the Harlem community. Through team-based participation, mentorship, and athletics, students are able to broaden their experiences and gain important life skills such as confidence, and how to benefit from teamwork. Since 1987, thousands of school-aged boys and girls have benefitted from Ice Hockey In Harlem, and it's local fundraisers like the annual Lawyers' Cup that help make the program so strong.
Learn more at Ice Hockey In Harlem's website.