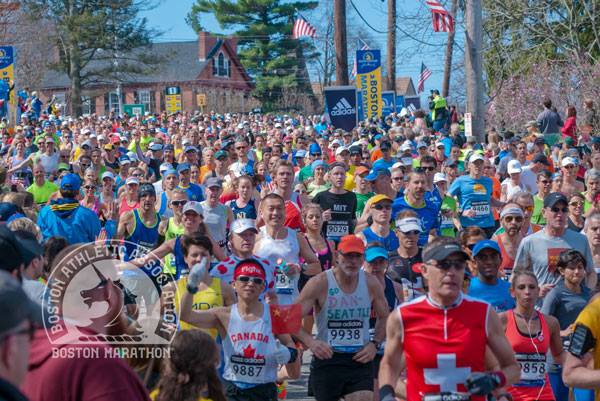 During the 2014 Boston Marathon, runners raised a record $38.4 million for local nonprofits. This is nearly double the $20 million raised in 2013, according to the Boston Athletic Association (BAA).
After the infamous bombings at the finish line of the 2013 Boston Marathon, there was an incredible demand to participate in the annual race. This, combined with an increased field size, contributed to the unprecedented generosity, which more than 300 organizations benefited from. "At some level, it was an attack felt everywhere, and I think the fund-raising this year reflects the depth and breadth of that resilience," said Tom Grilk, executive director of the BAA, which sponsors the Marathon.
The 2014 Boston Marathon marked the first year of the run since two bombs exploded near the finish line, killing three and injuring hundreds more. The field of the 2014 Boston Marathon was expanded to 36,000 participants to accommodate the runners who were unable to finish last year's race as well as the influx of those wanting to run, walk or wheelchair push their way over grueling hills and heated stretches on behalf of those who were injured, killed and those who survived the devastating Marathon bombings.
"This year's Boston Marathon was like no other that we have witnessed," BAA Executive Director Tom Grilk said in a statement. "We worked in cooperation with the community, especially the eight cities and towns which comprise the Boston Marathon route and the Commonwealth of Massachusetts, to accommodate as many participants as possible, and we were delighted that so many chose to channel their dedication and commitment towards fundraising for worthwhile causes."
The Boston Marathon is an event that truly represents the generosity, sense of community, and pride that Boston residents possess. Bostonians will never forget the horrific bombings of 2013, but their shared resilience will outweigh the tragedy for years and years to come, and this year's Marathon proves it.