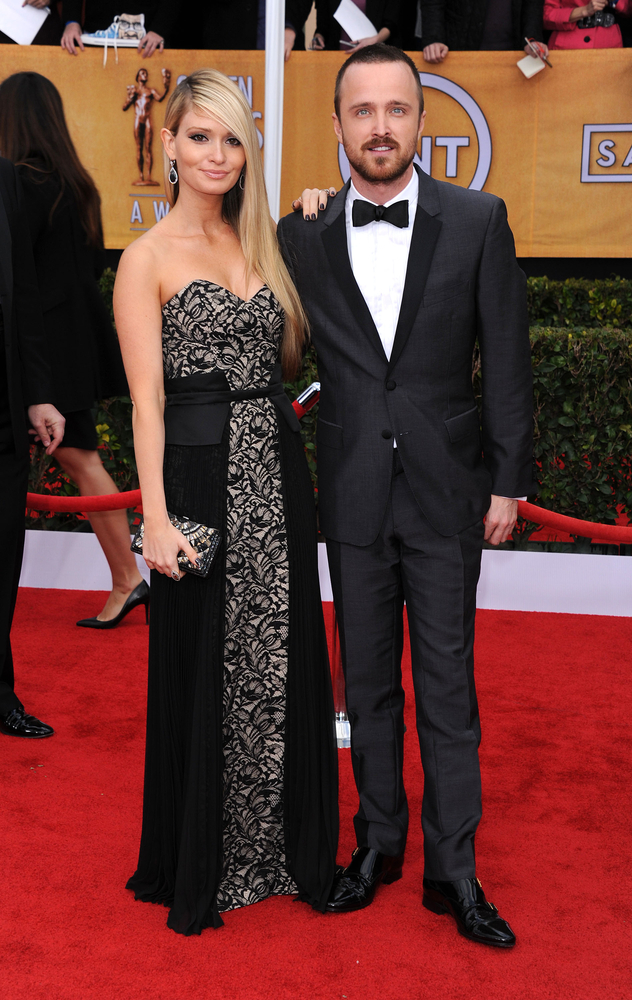 In Aaron Paul's acceptance speech during the Emmy awards, he brought attention to a little-known non-profit organization, of which his wife Lauren Parsekian is the president: Kind Campaign. Mr. Paul, while accepting his award said: "To my wife, my god. Thank you for marrying me, thank you for dedicating your life to spreading kindness across the world, we all appreciate it. If you guys don't know what she does look up Kind Campaign, do yourself and your children a favor. Thank you so much."
Paul won the Emmy Monday for Outstanding Supporting Actor in a Drama. The charity's goal is to combat bullying for girls. On the campaigns website, it describes its mission: "Over the years, the vicious ways in which females treat each other have become societal norms, with various media outlets that mock and even glamorize the issue. What we often choose to ignore is the fact that these experiences very often lead to depression, anxiety, loss of self worth, eating disorders, drug abuse, alcoholism, attempted suicide and actual suicide in millions of girls lives… We are suggesting something very simple: to STOP the competition, STOP the cattiness, STOP the hate, and to BE KIND."
Not surprisingly, as soon as the star announced the charity, its website became so inundated with visitors that it crashed. Not only does the charity's mission resonate with many, but it was also openly supported by a celebrity—which always seems to cause a similar stampeding effect as fans race to get on board. Support from the Breaking Bad star has already helped Kind Campaign raise over $1.8 million.
The Kind Campaign was co-founded by Lauren Parsekian and filmmaker Molly Thompson. Together they worked on a documentary called Finding Kind, which was released in 2011. The film followed the two as they traveled across America to expose girl-on-girl bullying and urge young girls to stop hating each other.
One of the reasons Lauren was inspired to start the campaign was the intense bullying she faced in seventh grade, which eventually lead her to attempt suicide. "I thought I was going to be sad for the rest of my life. … My ordeal started because a boy liked me and this girl liked him," Lauren said to USA Today.