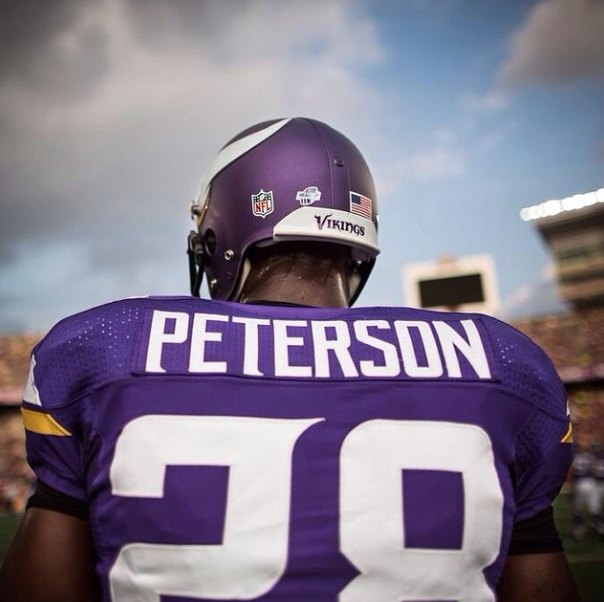 Professional football player Adrian Peterson's charitable foundation, the All Day Foundation, has removed all content from it's website. There is one message left on the website that reads:
The Adrian Peterson All Day Foundation website is temporarily offline to allow its charity partners to continue focusing on their outstanding community efforts rather than responding to the numerous media inquiries. The Foundation will continue to support the various philanthropic causes that Adrian and his family care so deeply about.
Earlier this week, the foundation removed a longer message that included the fact that many of the All Day Foundation's charitable partners were being harassed by the media and judged by the general public. It seems as though removing the website temporarily was a way to protect affiliate charities, and to disassociate the foundation from the media scandal that has recently engulfed Peterson.
This news comes after it was announced that Peterson is facing a felony charge for child abuse after spanking his 4-year-old son with a wooden board to the point of bleeding. The Minnesota Vikings running back is in the middle of a firestorm where even sponsors are starting to distance themselves from him and his team.
Because the Vikings initially decided to allow him to continue playing while the legal proceedings unfolded in Texas, the Radisson hotel chain has suspended their relationship with the team. Additionally, the Special Olympics Minnesota, Castrol Motor Oil and Mylan Inc. have severed ties with Peterson. Nike, perhaps the largest sportswear retailer in the world, instructed stores in the Twin Cities to suspend all sales of merchandise with Peterson's name on it.
"It is an awful situation," said Gov. Mark Dayton, who spearheaded an effort to secure $477 million in public funding for a stadium that is being built downtown. "Yes, Mr. Peterson is entitled to due process and should be 'innocent until proven guilty.' However, he is a public figure; and his actions, as described, are a public embarrassment to the Vikings organization and the State of Minnesota. Whipping a child to the extent of visible wounds, as has been alleged, should not be tolerated in our state. Therefore, I believe the team should suspend Mr. Peterson, until the accusations of child abuse have been resolved by the criminal justice system."
Although many agree with the statement given by Governor Dayton, it is disappointing that Peterson's foundation should suffer as a consequence. Established in 2008 to raise awareness and funds for programs that inspire hope in the lives of at-risk children and young women, the All Day Foundation has undoubtedly done a lot of good over the last 6 years. No news has been released in regards to the future status of the foundation.
Images via Instagram.