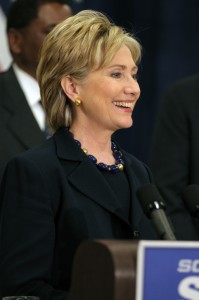 While speaking at Dreamforce 2014, a tech convention for cloud-based data management company SalesForce, former US Secretary of State Hillary Clinton focused on the ways tech companies can—and should—give back to their communities.
"What we have to be really focused on now is making sure that the benefits of technology to people's lives outweigh the pitfalls," said Clinton, adding that it was important that companies such as SalesForce are "creating more jobs, connecting up more families and communities, and expanding our horizons."
SalesForce in particular has focused on charitable causes with their 1/1/1 model, which commits SalesForce to donating 1% of its time, products, and financial resources to humanitarian organizations. That's meant $68 million in grants and 680,000 volunteer hours from staff for more than 23,000 nonprofits and schools around the world in the last 15 years.
These comments come at a time when companies at large, and particularly tech-oriented businesses, are cutting back on philanthropic giving. In 1986, corporations were giving 2.1% of profits to charity; by 2012, that percentage had dropped to 0.8%.
And though tech companies are generally doing well financially, many have still seen fit to take from their communities instead of giving back: Twitter negotiated $56 million in tax breaks from San Francisco to support its expansion, and Oracle convinced the city to use public funds to host America's Cup race, which cost $11.5 million after dismal fundraising attempts fell short.
On the other hand, Google remains one of the most philanthropic US companies, donating $1.1 billion to charity in 2012—8.5% of its profits. However, most of these charitable donations go to international charities, begging the question of whether or not tech companies should be focusing more locally, or if all philanthropy is equally necessary.
In the wake of these events, Clinton's Dreamforce speech encouraged industry leaders to fulfill what she described as their duty to use tech for social good, potentially kickstarting a new wave of philanthropic giving.