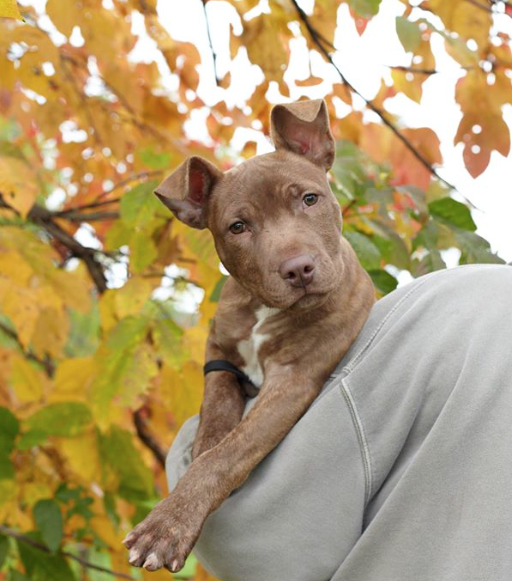 Pit bulls have a bad rap. Often perceived as mean and aggressive, these dogs continue to be feared and misunderstood by the American public. Pit bulls are the most bred dog in the United States, but are often confined to shelters because people are only familiar with the breed's enduring bad reputation. Even more alarmingly, according to Esquire, 1.2 million dogs are euthanized in shelters annually, and experts estimate that nearly 1 million of those dogs are pit bulls.
Organizations such as 400 Paws, Safe Humane Chicago, and other animal advocacy programs know that pit bulls are intelligent, loyal, and gentle creatures, and are working hard to raise awareness about their real traits. Recently, Dog Park Publishing, a company that makes products that celebrate pit bulls, encouraged dog lovers to partake in the "Kissed By A Pit Challenge."
The Kissed By A Pit Challenge is an initiative to raise awareness about pit bulls, debunk misconceptions about the breed, and partake in a massive social media conversation about animal rights and advocacy. Just like the #IceBucketChallenge, participants are encouraged to shoot a video or snap a photo of themselves being kissed by a pit bull, share it on social media, and donate $5 to their local animal shelter. The Kissed By a Pit Challenge not only raises funds for understaffed animal shelters, it shows love for pit bulls, while helping to change their image.
Dog Park Publishing co-founders Alisa Weberman and Jonathan Korzen recently told The Huffington Post, "We are thrilled with the response we have already received," of the number of challenge participants. "It means we are showing pit bulls in a positive light and raising money for rescues and shelters across the world."
Various celebrities took part in the Kissed By A Pit Challenge including Kevin Bacon, Adam Rose, Sophia Bush, Kelli Giddish, Tom Hardy, and many others. Their participation lent even more visibility to the cause, and helped to spread further awareness about this lovable breed.
Learn more about the Kissed By A Pit Challenge by visiting www.dogparkpublishing.com.