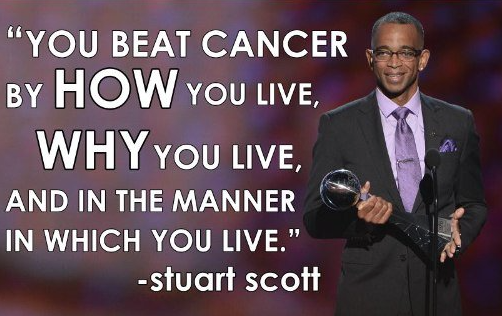 Stuart Scott, who passed away this week after a long battle with cancer, left a legacy far beyond reporting scores on ESPN. The beloved sports anchor gave generously which will live on in the causes he supported for years to come. The anchor died of cancer after battling the disease for more than seven years; he was 49 years old when he passed away.
Scott played a huge role in raising hundreds of thousands of dollars for both the V Foundation and the Livestrong Foundation, and donated much of his time and efforts to a variety of other charitable groups. Both the Livestrong Foundation and V Foundation are committed to fighting cancer through research and raising awareness.
Scott also was a part of the ESPY Celebrity Golf Classic in 2013, which raised $1.15 million for cancer research through the V Foundation. Last July Scott was even awarded the Jimmy V Award for Perseverance at the ESPYs, where he opened up on his disease and its effect on him. For 21 years, Scott was one of ESPN's and ABC Sports' most recognizable and quotable TV personalities and had become one of the world's most popular sportscasters.
Scott's two teenage daughters, his parents, three siblings and his girlfriend survive him. Scott's family has asked that fans and supporters donate to the V Foundation, which has put a memorial fund in place in honor of the late anchor—rather than sending flowers.
In a tribute to the longtime ESPN anchor, Steve Wulf writes, "When [Stuart Scott] passed away, he left behind so much…He inspired his colleagues with his sheer talent, his work ethic and his devotion to his daughters, Taelor, 19, and Sydni, 15. He defied convention and criticism to help bring this network into a new century. He spoke to the very athletes he was talking about with a flair and a style that ESPN president John Skipper says, "changed everything."
"ESPN and everyone in the sports world have lost a true friend and a uniquely inspirational figure in Stuart Scott," ESPN president John Skipper said in a statement.