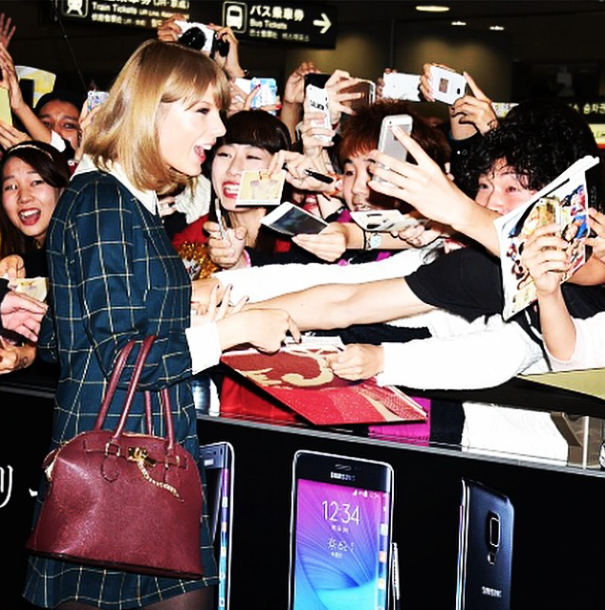 Taylor Swift has already made a name for herself for her catchy pop music, and now the star is gaining serious traction as one of the most philanthropic-minded celebrities out there today. Swift has always been very open about how much she values her fans, and lately, she's taken this appreciation to new heights by making efforts to personally thank some of them in truly creative ways.
Swift's latest effort to thank one lucky fan involved handmade gifts, photos, and funds to help start chipping away at her college loans. "Swift, who has a reputation for being super-generous with her fans, just helped one Swiftie pay her student loans" reports The Huffington Post. Various media outlets call Swift's unprecedented fan appreciation "#taylurking," because of how she finds fans on social media that go above and beyond to support her music, and then surprises them with gifts in equally impressive ways.
Her most recent gift was hand-delivered to Rebekah Bortniker by Swift's bodyguard. It included a watercolor painting that Swift created, a Polaroid photo, a necklace with a note that said "was mine, now yours," a "New York Is My Boyfriend" tote bag, and, in a nod to her most recent album 1989, a check for $1,989.
"I really really really really hope you like it," wrote Swift in a handwritten card inside the package. "I'm not a good painter but I think you're so beautiful and positive, even though you're dealing with the stress life brings, so I wanted to make you something."
This kind of personalized thank-you might seem over the top, but it's something that Swift has been doing for some time now. Over the holidays, the singer surprised some of her biggest Tumblr fans with Christmas presents and handwritten notes, for example. Swift has also been donating significant funds to worthy causes for many years, even during the earliest stage of her career.
Learn more about Swift's charitable contributions in our full profile of the singer.
Featured Image via Instagram.