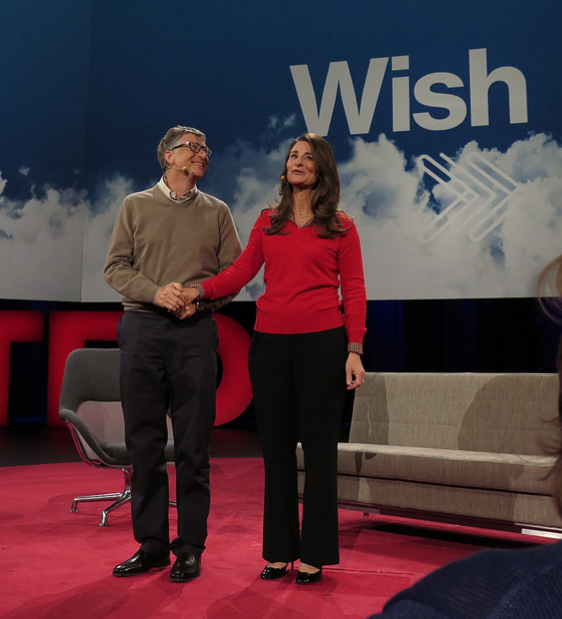 When a lot of people think of the world's top philanthropists, the image of an old business magnate writing checks from behind their desk might come to mind. Not so, says The Chronicle of Philanthropy, which recently reported that some of the most generous and influential philanthropists out there today are young people in tech industries.
The Chronicle of Philanthropy contributors Alex Daniels and Maria Di Mento report, "America's 50 most generous donors increased their giving by 27.5 percent last year – powered in large part by a $1.5-billion gift from Bill and Melinda Gates and a stunning rise in the number of tech entrepreneurs under 40, three of whom gave more than $500-million each," of the changing demographic of prominent philanthropists. Furthermore, The Chronicle of Philanthropy's annual "Philanthropy 50" reveals that more technology entrepreneurs are stepping up when it comes to giving back generously.
Here are the top 5 donors in the "Philanthropy 50":
Bill and Melinda Gates. It should come as no surprise that this philanthropic power couple ranked at number one in 2014 for their continually inspiring generosity. Last year, the Bill and Melinda Gates Foundation donated roughly $1.5 billion towards poverty initiatives, educational opportunities, and human service programs.
Ralph C. Wilson Jr. In 2014, Wilson, who passed away at 95 the same year, donated roughly $1 billion to nonprofits in western New York and southeastern Michigan through his eponymous foundation.
Theodore (Ted) Stanley. Mr. Stanley donated an estimated $652,394,500 to the Broad Institute, which will put the substantial donation towards research into the genetic sequencing of conditions like schizophrenia and autism.
Jan Koum. Like Bill Gates, Koum's wealth source is derived from the technology industry. At 38 years old, he was one of the surprising additions to this year's "Philanthropy 50" in that he is a notably younger philanthropist than many on the list. Koum donated roughly $556 million to nonprofits in 2014.
Sean N. Parker. Rounding out the top five is Sean Paker, who donated an estimated $550 million to the fields of medicine and science in 2014. Until recently, Parker kept a low philanthropic profile, but has recently emerged as one of the most prominent philanthropists in the country. At just 35 and in the tech industry, he also supports The Chronicle of Philanthropy's observations about how young tech donors are dominating the world of philanthropy.
Be sure to read more about how young tech donors are taking a leading role in the realm of philanthropy over at The Chronicle of Philanthropy.