On Tuesday, LeBron James accepted an award of honor from the Greater Akron Chamber of Commerce. The H. Peter Burg Leadership Award was presented to Mr. James in recognition of his leadership and many philanthropic efforts in the city of Akron.
James began his NBA career with the Cleveland Cavaliers in 2003. In 2010, he signed a contract with the Miami Heat, where he played for four season and earning two national titles. After four seasons with the Heat, James returned to Cleveland to finish his basketball journey that began at St. Vincent-St. Mary High School in Akron.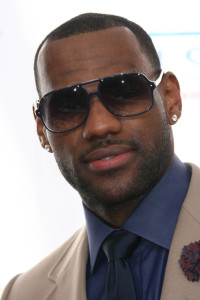 "This award is not mine, this belongs to you guys, the 330 Ambassadors, the I Promise kids," James said. "Every day I wake up and it's my motivation. If I go out and do something that's not right, they may look down on you and that's not right. I refuse to let you guys down."
LeBron James founded the LeBron James Family Foundation. Its biggest project in Akron has been the I Promise program, designed to encourage Akron public school students to pledge to do their homework and listen to teachers and parents.
Aside from their work with the I Promise program, the LeBron James Family Foundation also partners with Wheels for Education, The LeBron Advisory Board, Boys & Girls Club of America, Time to Promise, and St. Vincent- St. Mary High School for a wide variety of philanthropic events in the Akron area and abroad.
James, like many philanthropists, is partially inspired by his deep personal beliefs. In basketball circles, he is known for making controversial stances on topics like the Trayvon Martin case, former NBA owner Donald Sterling's racist comments in 2014, and the Michael Brown verdict. Additionally, he donated $20,000 to Barack Obama's presidential campaign in 2008.