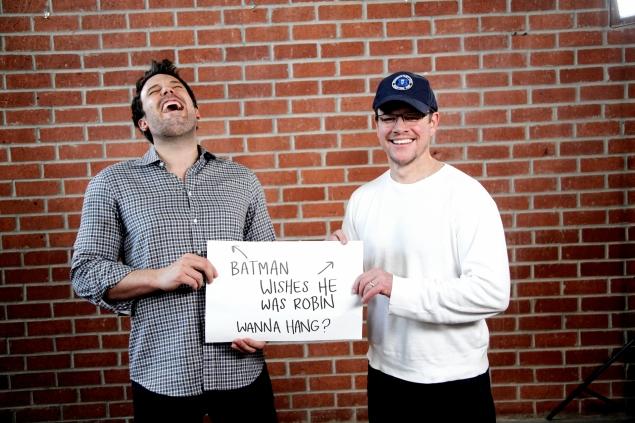 It's awesome when celebrities as famous as Matt Damon and Ben Affleck can poke fun at themselves. It's even better when they do it for charity.
Hollywood's favorite buddies recently got together to bicker onscreen to garner more attention for the fundraising start-up Omaze. According to The Fast Company, "The Oscar winners have teamed up with Omaze to offer up an exclusive hangout with them to raise money for organizations the two are actively involved in. The Easter Congo Initiative was founded by Affleck in 2010, while Damon is a co-founder of Water.org."
Omaze organizes once-in-a-lifetime opportunities for people to spend time with professional athletes, celebrities, and other famous figures. The organization creates a process that works just like a charity raffle, and anyone can join in by supporting a great cause. As friends and founders of Omaze, Matt and Ryan, explain, "Each experience is matched with a specific cause. Donate to be automatically entered for the opportunity to win. The more you donate, the better your chances of wining," of the way each contest works.
To get the chance to hang out with Damon and Affleck, fans just have to donate a minimum of $10 to the East Congo Initiative or Water.org. And what can the winner expect their exclusive experience with the actors to be like? In a promotional video for the fundraiser Affleck explains, "It would be like a best friend double date." Chimes in Damon, "It would just like us hanging out, taking selfies, talking about how like the Sox are going to do…" Either way, winning a chance to spend time with the acclaimed actors really would be an once-in-a-lifetime opportunity, and one that supports a great cause.
Learn more about how to donate to great causes at Omaze.