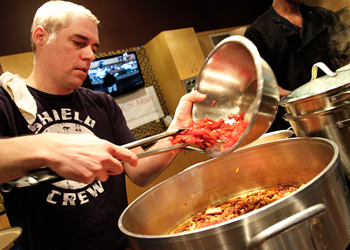 You might envision mushy, lumpy potatoes or overcooked, limp vegetables when you think of the food served at a Salvation Army soup kitchen.  If you went to the one in St. Paul, Minneapolis, you would be very wrong.  Instead, think about pan-seared salmon that has been caramelized to give it a better "flavor profile."  Think of delicious sauces and delectable fresh fruits and veggies.
When Jeff Ansorge applied for the job as the chef at the Salvation Army, those doing the hiring were skeptical.  Why would a man who worked as the executive chef at the Capitol Grill, one of the most prestigious restaurants in Minneapolis, want to work there?  He had previously been earning $100,000 per year and making dishes that cost almost $50 per plate or more.  The Salvation Army job paid just one-third of his previous salary, yet Jeff wanted the job.
Ansorge claimed that he wanted to serve and renew his commitment to his faith.  He was more than overqualified for the job, but the Salvation Army hired him in one second in October of 2012, feeling blessed to have him.
"The world as I had known it stopped making sense," said Jeff, 40. "I was working to drive profit and my whole being – physically and mentally – was rejecting it. I needed to do something with my culinary skills to serve the Lord."
Not only does Jeff run the kitchen, but he also sets up chairs and stocks napkin containers.  No job is too small for him, and he feels like this is where he belongs.  He even reads from the bible and talks to the patrons about the trials and tribulations of life.
One positive outcome of his work as the new chef is that he is serving less processed foods.  That means healthier fare for the diners and less money they have to spend on the food. Because he knows how to be creative with food, he has reduced the Salvation Army's lunch cost to only $.63 per meal.
The new job was just as challenging as his old one since they are reliant on whatever donations come in each day.  One day a case of crabs showed up.  Jeff rose to the occasion and made Spanish seafood paella.  Every day is a new challenge, and that's just how Jeff likes it.