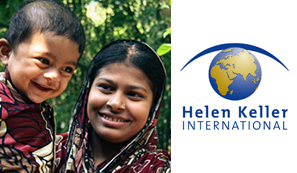 Earlier this month, Claremont McKenna College announced that Helen Keller International, an organization whose mission is to fight against preventable blindness globally, would be honored with the 2014 Henry R. Kravis Prize in Leadership. The prize, named for Claremont McKenna alumna Henry Kravis, was established in 2006 to recognize an outstanding leader in the nonprofit sector annually.
According to Claremont McKenna College, "the Henry R. Kravis Prize in Leadership conducts a rigorous due diligence and selection process to choose an annual recipient. A formal Award Ceremony celebrates the recipient's accomplishments and $250,000 is directed to a nonprofit organization designated by the recipient," of the process implemented for determining a Prize recipient. More than just honoring a successful nonprofit and providing them with vital funds and exposure, the Kravis Prize seeks to share that organization's best practices with others, in hopes of bolstering the efforts of other nonprofits. Past recipients include Johann Olav Koss, mothers2mothers, Soraya Salti, Pratham, and other charitable leaders and innovators.
Helen Keller International (HKI) is the ninth annual recipient of the Prize, and is extremely representative of the kind of organization that Henry Kravis and Claremont McKenna are proud to recognize. Founded in 1915 by Helen Keller and George Kessler, HKI is reportedly among the oldest nonprofit organizations dedicated to preventing blindness and malnutrition on a global level. Based in New York, HKI works in 22 countries around the world, as well as at home, specifically providing at-risk youth free vision screenings and prescription glasses. HKI seeks to aid the most vulnerable communities that would have no access to vision correction otherwise.
For more information about HKI and the annual Henry R. Kravis Prize in Leadership, visit Claremont McKenna's official Prize page.